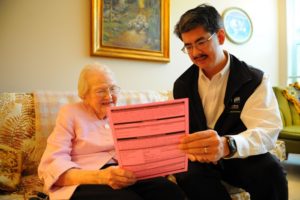 by Cate Kortzeborn- Medicare's acting regional administrator for Arizona, California, Hawaii, Nevada, and the Pacific Territories
My mom, 88 stubborn years old, still lives on her own in a big house with a cat that loves to get underfoot. Because I work in healthcare, I have an all-too-vivid recognition of the perils that can befall someone in her situation.
POLST stands for Physician Order for Life-Sustaining Treatment. It's a document that makes your treatment wishes known to doctors, nurses, emergency medical technicians, and other healthcare providers. Too often, people near the end of their lives get treatment they don't want. These treatments may not help them live longer or better, and sometimes can cause pain.
Also, family members sometimes have their own ideas about what types of treatment their loved ones would want. POLST makes sure your family members and caregivers know exactly what life-saving treatments you do and do not want.
POLST is different from an advance healthcare directive. An advance directive allows you to choose the advocate you want to speak for you if you're incapacitated, and provides a general guide to what treatment you want. POLST is different because:
POLST is a signed medical order that your healthcare team can act upon, whether your advocate is there or not;
POLST indicates your exact wishes about certain medical treatments.
Although it's a good idea for all seriously-ill people to have both an advance directive and a POLST, any adult, especially if she or he is unmarried, should have one or both.
You can find the POLST form online or at your primary care provider's office. Your provider can explain the different options on the form to you. The POLST must be signed by a licensed healthcare provider and by you.
Once signed, the POLST becomes part of your medical record. It stays with you all the time. If you're at home, put it near your bed or on your refrigerator. If you're in a hospital, nursing home, or assisted living facility, it'll be in your chart or file. If you're moved between locations, your POLST goes with you.
POLST forms vary by state and focus on three types of interventions. For each, you can chose whether or not to have something done or choose a level of intervention.
Resuscitation (person has no pulse and is not breathing):.
Medical intervention (person has pulse and/or is breathing):
Artificially administered fluids and nutrition: This is a way of feeding a person through a tube either in his/her nose or through the skin into his/her stomach.
To find the POLST website in your state, where you can get more information and download forms, go to www.polst.org.
More information on advance directives can be found at: https://medlineplus.gov/advancedirectives.html.
You can always get answers to your Medicare questions by calling 1-800-MEDICARE (1-800-633-4227).