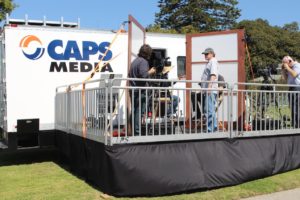 Inform our community
by Elizabeth Rodeno
October brings in our new board of directors who support the vision of CAPS , Patrick Davidson, our executive director and the staff. The non-profit CAPS Media Center has as our mission to create an engaged and informed community through participation in electronic media.
We are here every day working hard to support our members, organizations and community in spreading our mission and vision to bring media to everyone. That our studios, camera equipment and edit facilities are in high demand is a testament to our mission.   Everyday more and more youth arrive happy to find such a cool place to hang out and produce their videos. Granted, many people young and old use phones and tablets to film and produce their videos. The products can look good. When they realize how much can be accomplished here with the training by experienced instructors and the use of pro gear, they sign up. For only $25 a year you get it all. We are here to support you every step of the way.
Speaking of community, CAPS Media enjoys our partnerships with local media and shares the vision to be the voice of Ventura. With the assortment of media outlets available, you can keep abreast of most everything happening it town. Our bulletin board system offers organizations the opportunity to post an event or provide valuable information regarding your non-profit, education facility, government agency, or spiritual group. This information is available throughout the day on channel 6 and 15, streaming on our site and available to view on the website anytime day or night.
Presently, in the forefront of our minds are the elections, from national to state to very local, there is so many issues and concerns that we, at CAPS do our best to share information about the state, county and local elections in a non-partisan way. CAPS exists to maintain freedom of speech over the airways and we continue that every day.
Watch channel 6 and check out our website to watch great coverage of Ventura City Council and VUSD forums and learn about the propositions, candidates and issues on tap for November 8. Time is running out so be sure to vote.   Go to www.capsmedia.org to see what our members are creating for you and sign up to be part of the story.