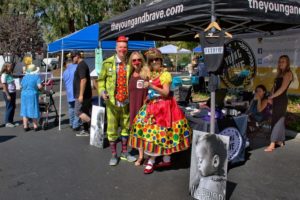 Whoever said there aren't any nice, friendly clowns out there any more didn't attend "Under The Big Top" at Cypress Place Senior Living in Ventura.  On Saturday October 8, 2016 the senior community hosted the fundraising extravaganza to benefit The Young And Brave Foundation, a local non-profit dedicated to helping young people in their fight against cancer.
The family friendly event featured clowns, a strolling magician, carnival games, photo booth, an animal petting area, a Dixieland band, and wonderful food prepared by the chefs at Cypress Place.  The theme for the event was 'clowning around for a good cause', and the residents and staff at Cypress Place worked hard to do just that.
Not only did the residents create decorations and fun and festive hats for the event, they also volunteered during the event itself, manning the carnival games and selling game tickets for the fundraiser.
"It was a fabulous day," said Marion Doane, a Cypress Place Independent Living resident.  "We loved working with the kids.  It was just an amazing day for everyone," she enthused.
Raffle prizes were generously donated by Duke's restaurant in Malibu and The Oaks at Ojai health spa.  Free shuttle parking was available at Unitarian Universalist Church in Ventura.   Seventeen hundred dollars was raised during the two hour event, with one hundred percent of the event proceeds going directly to The Young And Brave Foundation.
"Making sure not one family fights cancer alone is our ultimate goal, and we can't thank the wonderful staff and incredible residents at Cypress Place for hosting this amazing fundraiser to help us in our efforts," said Matt Coulter, co-founder, and executive director of The Young and Brave Foundation.  "We actually connected with a family at this event that we are now going to be assisting in their battle with cancer.  This is exactly what it is all about," he said.
Serious work indeed.  But for a few hours, everyone had a great time clowning around and enjoying the wonderful fun, all for a very special cause.
The Young and Brave Foundation is a 501(c)(3) non-profit organization dedicated to helping today's youth beat cancer.  To learn more about the The Young and Brave Foundation, visit their web site at www.theyoungandbrave.com/.
Cypress Place Senior Living is a premiere senior community in Ventura County.  To learn more about Cypress Place Senior Living of Ventura, visit their web site at www.cypressplaceseniorliving.com.