Laby (78), died on September 24, 2016 at 8:05pm. She was in the company of her husband Jordan and two sons Phillip and Todd. Her passing was peaceful and short. Being the fighter she has always been, she outlived all predictions, over and over again. The family is grateful that she is no longer suffering."
Sandra  died at home from pancreatic cancer after a very short battle with illness.
Donna Granata, Executive Director of Focus on the Masters said, "The sad news has arrived. Our community has lost one of its brightest lights. Sandra Laby's life was a beautiful life well spent. Her devotion to the arts will have a lasting impact for generations to come. Rest in peace dear friend. My love is with you Jordan, Todd, Phillip and your families."
Sandra was born on October 10, 1937 in Brooklyn. In 1947 she moved to Los Angeles with her family and later attended Fairfax High School in West Los Angeles, Los Angeles City College and Cal State Los Angeles.
Sandra married Jordan Laby at Factors Hall in Los Angeles in 1960 and remained married for 56 years until her passing. In 1979, Jordan and Sandra Laby moved to Ventura after falling in love with Ventura's beauty and arts. They made it their mission to unearth the artistic talents in Ventura which they did over and over again.
Sandra loved to dance and performed Flamenco, ballroom and other types of dancing in shows as a hobby.
The way Sandra saw it – art and life are intertwined.  A local visionary, Sandra Laby helped keep that gift alive in Ventura through many gifts, and her time to the arts.
When asked what she liked most about living in Ventura, Sandra said, "It is all about the people, the location and the weather.  It is such a relaxed place to live and raise a family.  People are kind and caring and it gives one the feeling of a very small town.  Every day I get to watch the ocean, the birds and the boats.  That is not a bad way to live. The weather is balmy and sometimes very moody and exciting. I like it all.".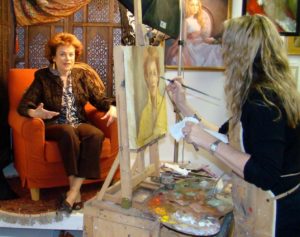 Here are just a very few of her – and Jordan's – incredible accomplishments:
One of the ladies of the Rubicon's "Hot Dames 2010 Calendar
President of the National Council of Jewish Women Ventura County
Honored for serving on the first foundation board of the California State University Channel Islands.
Jewish Federation "Woman of Valor"
Honored as the Mayors Arts Award,
Ventura Music Festivals First Founders Award,
Ventura Interfaith Ministerial Award as "Woman of Vision"
Ventura Chamber of Commerce "Shining Stars"
Ventura County Ballet Company "Partner in Dance Award"
Oxnard Salsa Dance Contest Winner where she raised the most money for "Music in the Schools with Nuvi Mehta" in association with the Ventura Music Festival.
Helped start the new "Harmony Project of Ventura County"
Supported key cultural venues like Rubicon Theatre Company, Ventura Music Festival, the bi-annual Arts Forum for City Council Candidates, and Focus on the Master Learning to See Series in the Ventura Schools, Working Artists Ventura WAV,  California International Theatre Festival, Bell Arts Factory and the New West Symphony
Was active as a board member and/or advisor of organizations such as the Ojai Music Festival, Ventura County Ballet, Ventura  College Orchestra, ART City and Camerata Pacifica. Also supported the Ventura Film Society, Jewish Federation of Ventura County, Jewish Family Services, and FOOD Share.
Founding member of the Ventura Botanical Gardens
The San Buenaventura Foundation for the Arts, which she and Jordan, founded in 1999.
Sandra and Jordan gave scholarships through the "Phoenix Program" at the Ventura College Foundation.
Museum of Ventura County an "Evening Of Note Celebrity Dinner" was held by the Ventura Music Festival honoring Sandra and Jordan Laby for their unending contributions to the arts in Ventura County and specifically in Ventura.
Harmony Project of Ventura County Celebration Lunch "For The Love of Children, Community and Music" was held at the Marriott Ventura Beach. The lunch was presented by the New West Symphony League to award Sandra and Jordan Laby the 2016 Humanitarian Award of the Harmony Project.
When presenting the Laby's with the 2016 Humanitarian Award, Peter Goldenring, a funding sponsor of the Harmony Project, stated, "We are all here honoring Jordan and Sandy for being bright lights and leaders in philanthropy and for making a huge difference in people's lives. Some would call what Jordan and Sandy do quiet acts of generosity. When done they never know whether or not it will change a life, be something big or be small. It doesn't matter."
Remembering Sandra Ventura City Councilmember Cheryl Heittman said "Sandra will be missed by our entire community but particularly the arts community. She contributed her time, talent and treasure to all the arts in Ventura.  My favorite memory is her winning the Oxnard Salsa Festival contest.  Dancing and the arts were her passion and she has left our community a better place."
Karyl Lynn Burns, Rubicon Theatre first met Sandra Laby more than twenty years ago. "I spoke to her on the phone my first day in Ventura as Executive Director of the fledgling Ventura Chamber Music Festival. The next day we met for lunch. She was a beacon of light – a force of nature – a beautiful bundle of passion and energy and enthusiasm. We met at Café Zack for lunch and stayed until the dinner dishes were done and they were ready to turn out the lights. In that 10-hour span of time, we had a new administrative and fundraising plan for the Festival; and I had a best friend, mentor and second mother (later a second father, too, in Jordan). Four years later, when my husband returned from the National Tour of Jesus Christ Superstar and we were ready to start Rubicon Theatre Company, Sandra and Jordan Laby provided seed funding so we could secure rights for the first show."
"I know there are so many other arts dreamers in Ventura County with similar stories. She was always there at the beginning of the movement – leading the charge for the best and biggest and boldest idea."
"Sandra and Jordan Laby have forever transformed Ventura County and the City of Ventura. In addition to her beloved sons Phillip and Todd and their wives and children, Sandra's legacy is a vibrant, unique and special arts community."
"Sandra Laby has forever changed and enriched my life. I miss her already and am sad beyond measure and beyond words. But I take some comfort knowing that she will be a part of every act, though and decision I make for the rest of my life. And, in the words of Winnie the Pooh, "How lucky am I to have something that makes saying goodbye so hard?"
A funeral service was held at Temple Beth Torah, on Wednesday, September 28th at 10:30am. A private burial followed.
In lieu of flowers, please make a donation to New West Symphony Harmony Project. For more information, go to www.newwestsymphony.org.