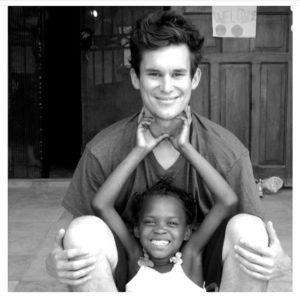 Most people might wonder what a pro surfer and a group of senior citizens have in common, but then again, Oxnard native, and former U.S. Open of Surfing champion, Nathaniel Curran, is no ordinary surfer, and the residents at Cypress Place Senior Living in Ventura are no ordinary senior citizens.
Curran, along with local Venturan Matt Coulter, co-founded The Young and Brave Foundation, a local non-profit dedicated to helping today's youth beat cancer.  The residents and staff at Cypress Place have participated in many philanthropic endeavors over the years.  So it's no surprise they now want to do their part in the fight against cancer.
And that's exactly what they will be doing on Saturday October 8, 2016, when the senior community hosts their "Under The Big Top" fundraising extravaganza to benefit The Young And Brave Foundation.
"We are so excited to be partnering with Cypress Place on this event," said Coulter, who runs the day to day operations of the foundation.  "We really need the support of the whole community to help those battling cancer.  It's heartbreaking for anyone, but particularly the kids.  This fun event is a way to reach out and help those who are hurting," he said.
The festive big top motif event will feature multiple arenas of fun.  Enjoy balloon animal making with the strolling circus clown, or dress up like a circus clown yourself and get your photo taken in the photo booth.  Try your luck at the carnival games – manned by Cypress Place residents – or dance the event away at the Dixieland band stage. And don't forget to stop by the magnificent magician and juggler arena to be awed and amazed.
"We are thrilled to be helping out with this event for The Young and Brave Foundation," said Pat Eichenhofer, who resides at Cypress Place along with her husband Herman.
A blast indeed.  Bring the kids to pet the farm animals, enjoy a delicious Philly Cheesesteak sandwich lunch, or enter the raffle for fun and prizes.  One lucky winner will receive a gift certificate to famous Duke's restaurant in Malibu, and a chance to meet legendary surf icon, and original Gidget, Kathy Kohner-Zuckerman.  Her life story was the inspiration for the Gidget novel, movies and TV series.
This fun-filled event is open to the public and takes place from 11.am. to 1 p.m. on Saturday, October 8, 2016.  A $10 donation for adults is suggested.   $5 donation for kids 12 and under.   Game and raffle tickets sold separately.
There will also be free shuttle parking at Unitarian Universalist Church, 5654 Ralston Street in Ventura (corner of Cypress Point Lane and Ralston Street).
100% of all event proceeds will go directly to The Young & Brave Foundation, so grab your friends and neighbors and come support a wonderful cause that benefits our local community.  For more information or to RSVP for this event, please call 805-650-8000.
The Young and Brave Foundation is a 501(c)(3) non-profit organization dedicated to helping today's youth beat cancer.  To learn more about the The Young and Brave Foundation, visit their web site at www.theyoungandbrave.com/.