In the new Helen Yunker Alcove Suz Montgomery interviewed Helen for posterity. Eric Howes designed the alcove and artist Ryan Carr painted the outside murals. Photos by John Hankins
On Sept.17 a 95th birthday celebration was held for Helen Yunker at the Museum of Ventura County. At the celebration the Helen Yunker Lobby was dedicated which will be a part of the remodeling of the Museum which is scheduled to be completed in January, 2017.
Hundreds of her friends enjoyed the sounds of the VJO Sextet (featuring the vocals of Donna Green), food and congratulating Helen who, as usual looked beautiful in her wonderful attire.
Helen stated "I am so sorry for any omissions on the invitation list for my 95th birthday and bequest celebration held at the Ventura County Museum.   My vision is greatly impaired, so I was not able to review the invitation list to ensure that everyone was included. "
"Though the time was very short for planning the party, it was a great success. Special thanks are due to Betsy Chess and Elena Brokaw for an outstanding job. "
"If you were there, I know you had a great time, and I thank you for the thoughtful mementoes and cards that I received. My purpose for the celebration was to bring the community's attention to the great need to financially support this very important and major institution. Our museum needs your help now!"
"Our museum is the largest treasure chest of Ventura's lives and stories told through art and artifacts that exists anywhere. Our museum offers invaluable opportunities to educate our children and stimulate their interest in history. Our museum attracts 50,000 visitors a year to the heart of our city. This contributes extra dollars for our local businesses along with more sales tax for our city. Our museum provides an amazing research library and archives that contain over 170,000 items unavailable elsewhere."
"To launch this urgently needed fund drive, I have personally donated $25,000  and hope this starts the ball rolling."
"An institution of this importance and magnitude needs financial giving from the entire community that it serves. I hope you will step up and join me and know you are helping to preserve our past and ensure the future of our museum. Please go to http://venturamuseum.org/donate-now/"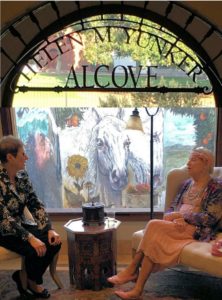 At age 95, Helen Yunker can look back over an incredible life of achievement and service to her community.  Her philosophy is simple – "In helping and sharing with others, you multiply your own blessings many times."
Helen arrived in 1948 in California, from Chicago, where she was born in 1921. After 10-years in direct sales, Helen fulfilled her dream of living at the seashore when she moved to Ventura's Pierpont Bay area in 1958. A retired realtor in 1971 she founded Helen Yunker Realty.
Her 58 years in Ventura is a virtual kaleidoscope of ongoing community engagement. She has been recognized over the years for her many contributions, by numerous service organizations in the areas of educational, medical, civic, youth, theater, and arts.
Her recognition and contributions over the years are too many to list. But we are all blessed and grateful her contributions to our art, heritage and culture.
When her portrait was painted by Johanna Spinks as part of The Face of Ventura series in the Ventura Breeze Helen stated "Having grown up in Chicago, Ventura, with its 25,000 population in 1958, its climate, location and overall ambiance, was a true panacea and fertile ground for my life's goals.  Today, after 54 years of service, my greatest blessing is the thanks and recognition I receive, also fully aware of my intense struggles, as well as accomplishments.  Where else, but in Ventura, can one be embraced like a family member, and be gifted a feeling of belonging?"