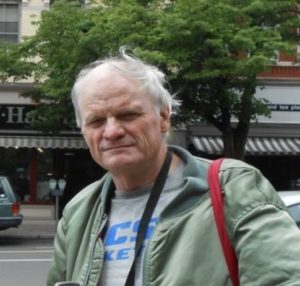 Friends of the late Steve Cummings gathered briefly on September 2 to dedicate a public art project that is a memorial to his life. Mr. Cummings died suddenly in August 2015.
The memorial is a pair of painted traffic signal utility boxes at the southwest corner of Mills and Loma Vista next to the Treacy Convalescent Home.
Local artist Shelly Gould designed the art to show the many parts of Steve's life and his many, many volunteer contributions to Ventura. The artist's skill is seen by including illustrations which refer to many parts of Steve's interesting life and many accomplishments.
In addition to founding and serving as Chair and Secretary to the College Area Community Council, he was a 20+ year volunteer with the San Buenaventura Heritage, Inc. at the Dudley House Historical Museum where he planted and maintained the lavender garden in authentic period style at Dudley House. Steve also was a leader on the Downtown History Trail Marker project which continues to identify and provide interpretative information on the many historic sites in Ventura's Downtown.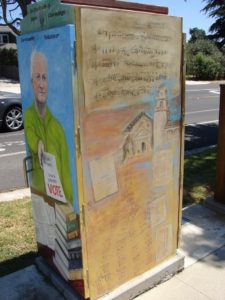 Steve also restored antique clocks, watches and organs, wrote organ music for the restored organs, was longtime volunteer for UCSB's athletic program, was an active member of the local Democratic Party, wrote several published books, compiled and published the Ventura County Statistical Abstract for many years, retired from a career in banking, rode his folding bike everywhere, and more. He was a most interesting person.
The art project was funded by donations from his friends and was coordinated by the City Public Art Department and approved by the City Public Art Commission.