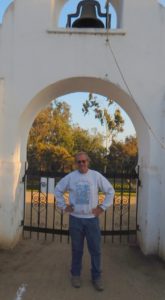 by James Francis Gray
Have you ever been to the Music Under the Stars concerts at Olivas Adobe in Ventura and noticed white chalk markings in the Olivas parking lot and the outside parking areas and wonder who makes this happen? Or the table and chair setups for these events?  Well, wonder no more.
Paul Vaksvik (Vox-vik) is our set up man, he runs the crew that sets up and takes down the tables and chairs for every concert and he does the chalk striping including at the grass parking area.
He has worked for the City of Ventura for over 23 years.  His responsibilities at these events began about 18 years ago with the help of only 4 or 5 people on his crew. For the last 7 years, he's using teen volunteers, seeking, "Community Service Hours," credit. The students, setup the tables and chairs for the events.
What began as something to do in the summer for Paul, when school was out, has continued for years. Paul loves working with kids. The young adults brought brothers and sisters, friends, some adults and parents to help. With a little training, the various groups accomplished their task without much trouble. Paul says that they became well-oiled crews, using teamwork to get the job done. These young able helpers can set it up in 90 minutes. After the concerts, the take down and storage moves quicker.
Paul said, "Things have changed over the years and when, Georgeanne Lees, took over the event, they received a new stage and a real dance floor. The extra work added to the preconcert Friday tasks. Now in addition to chalk marking, setup, we're washing and waxing the dance floor also."
The last concert took place on Saturday, September 3. It was sold out(as was most of them), so look forward the next year's concert season, July 4th through Labor Day, 2017.
The ever-changing diversified musical performances have something for everyone, so don't be left out. Audience participation is encouraged as they get up on the dance floor and get down with the beat.
Paul, over the years, has worked with children on many worthwhile projects. He hails from Elkhart, Indiana of strong Norwegian decent, with a little Irish-English and Native American thrown in for comfort. He's a world traveler and has lived in Kentucky, North Dakota, Michigan, Spain and now Ventura, coming here in 1977 from Kalamazoo, Michigan. He's jovial, friendly and works wonders for our young students, they are the future.
We're looking forward to 2017 with Paul and his efficient crew, doing what they do best, setting up the Music Under the Stars concert series.