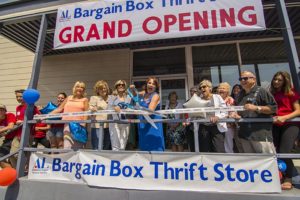 The Assistance League of Ventura County celebrated the grand opening of its newest Bargain Box Thrift Store at 3351 Telegraph Rd. The new location offers additional space for the many vintage items and collections for sale. Kay Rich, President of the Ventura chapter led the ceremonies.
Helping Kay Rich cut the ribbon were   Suz Howell, Stephanie Caldwell, President & CEO Ventura Chamber of Commerce, Christy Weir, City Councilmember, Leann Wren, Marty Forbes, Susan Knupp, Shari Smith, Angie Hecht, and Dr. Ron Atanay.
"The mission of the Ventura Chapter is to provide funding to identify and assess the needs of children in Ventura County and to develope programs to fit those needs" said Rich. The Assistance League has six programs to address the needs of Ventura County children: Girls Club/Teen Club, Assistance League School, B.U.F.F.Y. Bear, Assault Survivor Kits, and Assisteens.