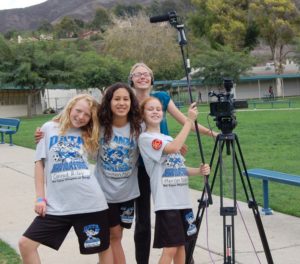 by Elizabeth Rodeno
September seems like the beginning of the year for those of us in the educational world. Students from a variety of schools and adults of all ages are passing through our doors. Our monthly HD Camera classes fill up quickly. With his breadth of knowledge, Evan shares the simplicity and secrets of the Panasonic HMC 150 HD cameras. Gary enjoys showing the finer points of editing as well as giving a great introduction to Final Cut X on the latest macs. Studio classes are helmed by Phil who teaches students how to put together a studio show. The studio has been quite busy these days, often with bookings back to back throughout the week. The members are loving it and tell us what a great resource the community has at CAPS Media. Get certified to access our cameras, 6 edit stations and the full 3 camera production studio with green screen.
El Camino and Foothill High School students are volunteering on a variety of programs providing them with technical and artistic experience, community service hours and a whole lot of fun. You'll be seeing them at various Candidate election forums throughout the city. They also work with us on studio productions and have become skilled at sharing their knowledge with newbies. The El Camino students continue to enjoy and add to the creative energy at CAPS Media as they begin Season 2 of the award winning ECTV. They have been developing ideas over the Summer and have more than enough to last beyond the school year. We all look forward to seeing the shows come together. You'll be able to view them online, streaming and on the website, and on channel 15. Go to the video page on our website today to view last years' shows.
Between the Election candidate forums, informational programs about the propositions on November's ballot and our Video Voter 2016, you'll get information to help you make decisions come November 8.  The shows begin airing in September on CAPS channel 6 and streaming on the web at CAPSMedia.org. Check the website for dates and times.
We are all over the web so check out social media pages including Facebook, Twitter, Instagram and You Tube. View it all on our frequently updated website. A yearly membership at CAPS is only $25, a best bargain for media fans, students and organizations to share your story.  Go to www.capsmedia.org or call 658-0500 for more information.