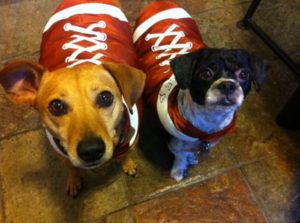 by Es Cole
"Fwonsa will see you now."  Fwonsa is a doxie mix and has ruled our household for five years. Les Cole, my husband, aka Big Dog, is her slave. She barks, and Les opens the back door. She barks, and Les lets her back in. She barks, and Les comes up with treats. Then Manny was added to the household. He gets the same treatment as Fwonsa, but has to wait his turn.
Les is now at Victoria Care Center and misses the dogs like crazy. We brought Fwonsa to see him today, and, I swear, the entire establishment looked healthier when she walked through the front door.  As she strolled into Les' room, I could feel Les' blood pressure dropping.
After checking out the kind personnel looking after Les, Fwonsa decided she wanted a second opinion from her colleague Manny.
Manny is a cuddly, curly-haired poodle mix. He marched through the hallways, tried to peek into every room, acknowledged the oohs and aahs and allowed all attractive and gentle nursing people to pet him.
Nursing facilities that allow animal visits are smart and foresighted. They are getting effective, curative nursing procedures at no cost. You don't even have to buy extra insurance coverage to take advantage of their healing skills.
Both Fwonsa and Manny had waved a happy wagging tail salute to John Gardner, Executive Director of Victoria Care, as they walked past his office.  I know they were thanking him and his entire staff for looking after their favorite 'Big Dog' while he was recuperating.