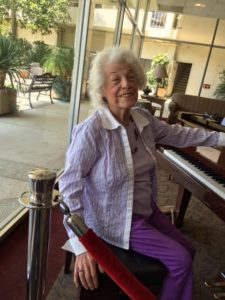 by Es Cole
Irene Olson, master of the piano, virtuoso of sight-reading music; young in heart and soul; beautiful in dress and manners, sexy enough to have males drooling after her.
She resides at the Ventura Townhouse where she sings for her breakfast, lunch and supper. She provides promenade music when everyone is walking toward the dining room. Her repertoire is enormous – from classical to pop to golden oldies.
She plays every afternoon where some residents have forgotten much of their personal histories, but remember the words to songs by Bing Crosby or Frank Sinatra or Michael Jackson — when Irene leads them in sing-alongs while playing the not-well-tuned piano.
She's a treasure in a size 10 dress and a lovely white bouffant hair style.
If you're lucky enough to get invited to lunch at the Townhouse, or take advantage of their exercise rooms, or join their personal history group, you may be lucky enough to catch Irene Olson doing what she loves to do – getting her audiences to tap their feet, sing and dance; feel the warmth running from their toes to their ears by the sweet memories evoked by her music.