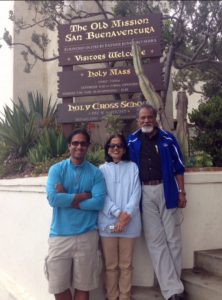 by Arijit Basu Lecturer-CSU-Bakersfield
GUEST COLUMNIST
When you think of Ventura, California, picture a poetic coast, and a wide 70 mm cinemascope vision of flora and fauna that sweeps up on you when you drive into town. One of the most sought after vacation spots in Southern California, Ventura has the charm, striking looks and genial personality to ensure any visit to its township becomes a treasured moment in your life.
Ventura lies nestled side by side to Oxnard in cozy Ventura county. Ventura lies along U.S. Route 101 between Los Angeles and Santa Barbara which was one of the original U.S. Routes. The highway is now the Ventura Freeway but the original route through town along Main Street has been designated El Camino Real, the historic pathway connecting the California missions.
There's tons of things to see and do in Ventura for the entire family. The nook of Surfer's Point, the haven of many avid surfers and surf enthusiasts alike will give you a bird's eye view of the balletic elegance of these aquatic artists, leaving your spirit elated.
Drive further south, and you'll hit beautiful San Buenaventura State Beach, with its crisp white sands and lots of squirrels and birds. Further south, with ample space for children to play in and grills available for yummy cookouts, Marina Park makes for a great picnic spot. You might have to ward off uninvited guests, like the seagulls and squirrels, or you could just give in and invite them to share some juicy tidbits from your lunch. They'll thank you for your hospitality with some cute photo ops, which are guaranteed to lead to fun social media chatter with your friends.
The historical impact of one of the oldest Missions in California are on full display in downtown Ventura. The beautiful Spanish Mission is a lovely piece of architecture and has tours and handicrafts for sale. Shop at some of the quaint thrift stores. You mingle with shoppers and tourists on Main street, sniffing out quality bargains. The lively music of mariachis put you in a mood to kick up your heels and dance, and even join a wedding underway at the Mission plaza. Weekends offer plenty of activity at the Ventura farmer's market.
As you head back, aim to drive through Santa Paula. This town proudly calls itself the "citrus capital of the world". Many a Hollywood movie production has taken full advantage of its ravishing picture perfect landscape.
The proximity to central Cali and southern Cali alike make Ventura a prized destination to make regular and repeat visits to. So what are you waiting for? Go venture forth in Ventura and ace that serene vacation you're craving!