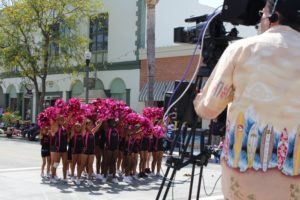 End of summer
by Elizabeth Rodeno
The CAPS Media staff and volunteers completed live coverage of the 2016 Ventura County Fair Parade with style. Thanks to the Elks for running a great parade and to Tim O'Neil and Jerry Breiner for their excellent play by play. See you next year.
Our Business of the Month program, hosted by the City of Ventura and the Ventura Chamber, is garnering great feedback  on the CAPS Media website and the Chambers' site too. Check out our web page for the entire catalogue of Ventura's Business of the Month.  You will meet interesting people and learn about the causes they support. Watch for them Monday through Friday at 11:30am on Channel 15.
It is not long before the start up of this school years' Mayor for a Moment where a fifth grader from each elementary school gets to be Mayor for a Moment and bang the gavel to start the meeting and share their essay. We spend some time with the student on campus and learn about them. You are sure to enjoy their stories at 7:30pm on channel 15.
Ventura Legacies is going strong with 5 epsiodes running and more to come. This program will educate you about the history of the people and places of Ventura. We will be adding more fascinating stories every month. Stay tuned.
There is going to be lots of action here at the media center where Evan will be a busy bee working on the build out of both the new radio station and the upgraded studio. Come the New Year, we will be an even more exceptional media center, the only one in Ventura. You will be able to share your story and your voice right here at 65 Day Road.
2016 is an important year for politics in this town, county and country. As your hyper local information hub, we will present our Video Voter program where you can learn about the candidates for City Council and Ventura Unified School District's board. We will cover a variety of candidate forums to meet the candidates together and listen to the audience's questions. Several important initiatives will be on the ballot and we will keep you in the know.
We are all over the web so check out social media pages including Facebook, Twitter, Instagram and You Tube. View it all on our frequently updated website. Don't forget about the training classes and professional gear we offer. A yearly membership at CAPS is only $25, a best bargain for you media types, students and organizations to share your story.  Go to www.capsmedia.org or call 658-0500 for more information.