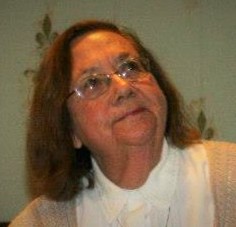 by Jill Forman
Rosemary Molloy is amused at her encounters with death.  "I've been murdered three times: shot, stabbed, and suffocated."  Her drama "career" started when she was over 70, and she wants to spread the joy she gets from acting to other adults.
She considers being on stage "the thrill of a lifetime" and quotes George Eliot, "It's never too late to be who you might have been."
She will be teaching Acting for Amateurs at the Adult Center on Ventura Avenue this fall.  Geared to those with little or no stage experience, the class is for anyone interested in the art of acting in plays.
More generally, the class is for those who would like to "expand their experiences, lose their inhibitions, and see how plays work."  What is the playwright trying to say?  How do the actors convey that?  Theater lovers can enrich their experience by understanding what is going on, onstage; this makes the play more enjoyable and interesting.
Rosemary came to Ventura from Little Egg Harbor in New Jersey  ( (gotta love those East Coast names.)  She worked as Manager of Employment for a university, then retired to Little Egg with her husband.  A neighbor was good friends with Desmond Starr, founder of the Little Egg Theater Company, who organized an informal acting workshop.
She did a reading from an Irish play "Riders to the Sea," and Starr was so impressed he asked her to perform in that play.  He rented a special room at the library, it was packed, Rosemary was a hit…and so it goes.  Subsequently has played many parts at theaters and other venues in New Jersey.  Her favorite role was Aunt Julia in Hedda Gabler; "…an intense role, insightful, dark."  Sadly, her husband never saw her act; he was too ill to attend.
Dinner theater is another form she enjoys, especially the Improv variety.  "Really fun," the actors have to stay in character both for the play and while eating dinner with guests.  She played "Ivana Trumple, a psychic, or rather an imposter of same."
She has also written drama, mostly short plays; several have been staged in Atlantic City.  She often uses them in her class.  After all, that way she can really tell the students what the playwright was thinking…
Rosemary enjoys Ventura, where one of her daughters lives.  It's an adjustment with the "more casual" lifestyle.  She likes the fact that it's spread out and easy to get around. And she makes friends easily by joining different groups and going to lectures, etc.; her obvious enjoyment of meeting new people and talking to them explains why.  Maybe she could teach another class for those who have trouble fitting into a new city.
Speaking of class, the Acting for Amateurs will meet weekly for 4 or 6 weeks.  Interested folks can sign up through the Adult Center.
And don't be telling Rosemary you're too old to learn to act!
Ventura Adult Center 550 N Ventura Ave. 648-3035.
Do you know a senior that started a second career in their "later" years? If so let us know editor@venturabreeze.com.