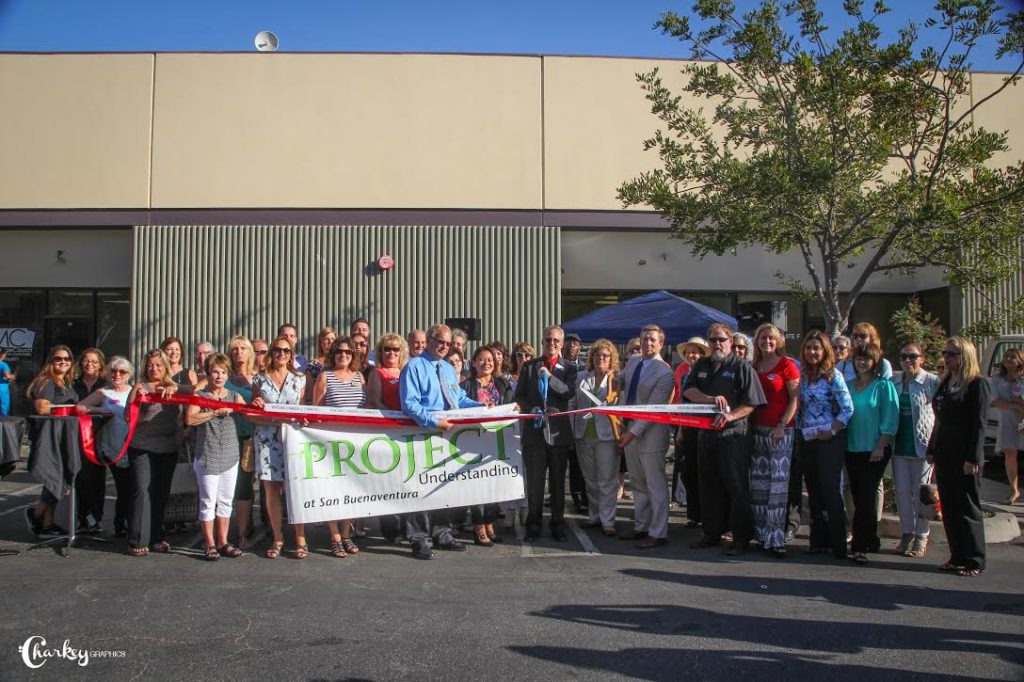 Project Understanding is a nonprofit social service center serving clients in the Ventura County area. With a variety of programs they are able to serve a wide range of community needs. They firmly stand behind the "A Hand up Not a Handout" model.
On July 7 a ribbon cutting was held to celebrate the opening of their new location at 2734 Johnson Dr. in Ventura. The new location is centrally located between downtown Ventura, Oxnard and Camarillo to better serve their clients.
Helping celebrate were the Ventura and Camarilla Chambers of Commerce, volunteers, Ventura Mayor Erik Nasarenko, a representative from the office of County Supervisor Steve Bennett, Ventura Chamber CEO  & President Stephanie Caldwell and  well-wishers. Ample food, welcoming speeches  and drinks were offered to the many guests in attendance.
Project Understanding provides many levels of care and help.
They currently have 13 tutoring sites in Ventura, Oxnard and Santa Paula. These sites enable them to connect with over 400 children a week with homework assistance and mentoring.
The Food Pantry (located at their new location) serves approximately 1,000 people per month with food, including fresh organic fruits and vegetables, frozen proteins, low-sodium and glute-free items and dairy products such as milk, eggs and cheese. Clients are greeted as customers and served with dignity and respect.
The Homeless2Home Street Outreach Program is a hands-on approach to homelessness. Each worker takes the time to reach out to the clients and build a rapport with them. They meet them where they are in their life's journey. The "Housing First" model has made it possible for over 400 homeless individuals to become permanently housed since the program started in 2012.  This has reduced the number of chronically homeless in Ventura by over half.
Tender Life Maternity Home accommodates up to six pregnant women and their newborn babies for approximately 3 months after their babies are born. Once they have successfully completed the program, they are eligible to apply to the transitional housing programs in Ventura County.
By providing case management at the Shore for previously homeless families, individuals and adult foster youth, residents are guided to successfully obtain the necessary tools and eventually move forward to self-sufficient housing.
Project Understanding provides a 5-unit apartment building in Oxnard. In collaboration with Behavior Health and the Veterans Administration, they can offer low rent housing to previously homeless clients.
In collaboration with other county agencies, they are able to operate a number of community programs. The School Outreach Program, families are chosen in collaboration with the Ventura Unified School District and provided with a complete Thanksgiving meal.  Adopt-A-Family pairs donors with qualified families in need to provide gifts for the holiday season. The Senior Nutrition Program delivers food twice a month to at-risk seniors and disabled adults who cannot otherwise access pantry benefits. Homeless Court program provides clients the opportunity to volunteer their time for a credit of $10 per hour. Their fines are forgiven and eliminated from their credit report.
With only 12 paid staff members, and countless volunteers the work they do is immeasurable. Their function in the community is vital and the need is rapidly expanding. To learn more, donate, or to get involved, you can visit their website at projectunderstanding.org or call 652-1326.