On Tuesday, February 24, 2015  there was a truly meaningful event that took place at City Hall when Don Haskell was honored by the VUSD. Photo by John Ferritto
Don Haskell has died peacefully on June 25 at CMH from severe respiratory distress stemming from the progressive debilitating MS. He was a few days short of his 74th birthday.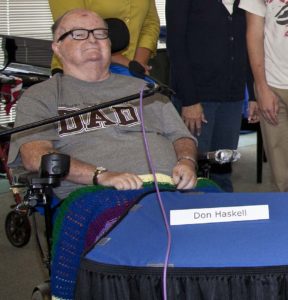 Don Haskell was a Ventura Unified School District teacher for thirty-six years and taught at Ventura High School. Of late he was known for being a member of the brilliant "seniors" participating in the Knowledge Bowl presented by Suz Montgomery between seniors and high school students.
In speaking to Don's daughter Luisa Suz stated "Oh Luisa, I am devastated. On a conscious level I'm trying to wrap my head around the fact that he is gone. But in my heart he'll always be there and participating in our class making with me laugh and imparting his phenomenal memory for facts and antidotes. Don was a very big part of my life and will always be."
"I am saving a copy of the latest Knowledge Bowl article from a couple of weeks ago in the Ventura Breeze with his ever present grin."