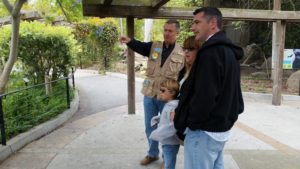 by Jill Forman
"I feel rejuvenated every time I come here," says Indira Pasrich, 76, of her experience as a giraffe docent at the Santa Barbara Zoo.  Set on the beach in Santa Barbara, the Zoo is 20 minutes north of Ventura.  It not only has animal exhibits but is involved in conservation efforts and education programs.
The Zoo is actively seeking volunteers and welcomes seniors and retirees.  Shomari McLemore, Volunteer Coordinator, says that seniors often have more availability, in addition to life and work experiences that fit in well with volunteer needs.  Current volunteers are all ages from teens to those in their 80's.
Paul Kremser, 70, is a retired attorney who now uses his gift of gab talking about the Zoo's gibbons.  "It's fun to meet people from everywhere" he says; "I like to keep active."    Others agree and stay for decades.  According to McLemore, the longest-serving volunteer has a file dated 1994.
There are many categories of volunteer jobs, something for every preference.  Some work directly with the animals.  Others stick with office work.  Those interested in education can be docents.  Event Volunteers have the special fun of helping out at the social occasions the zoo hosts several times year.
There are train helpers, gift shop assistants, groundkeeper aids, kids' craft helpers….no matter the level of physical activity or energy there are possibilities. All parts of the Zoo are wheelchair-accessible, and many of the duties of docents or assistants involve children so sitting at their level is a plus!
McLemore feels that, though seniors are welcome at any position, docent is frequently the job that fits best.  The volunteer picks a special animal, learns about it, and talks to zoo visitors.  Customer service skills are a must, and an enjoyment of dealing with families.  Some of the most fun and rewarding encounters are school groups.  Convincing the next generation of the value of nature and the animals is a good way to give back.
Prospective volunteers attend an informational meeting to decide where they might like to help out.  Depending on the position, there are further classes and hands-on trainings.
Volunteers enjoy a special relationship with the Zoo employees, animals and patrons.  And just the enjoyment of being in a special place helping with important programs.  Not to mention less-tangible benefits that apply especially to seniors.  As Pasrich continues, "It helps us to be here, walking and getting our circulation moving.  We are happy talking to children and adults, still productive."  Her beloved giraffes move gracefully in their exhibit beyond where she speaks and demonstrates artifacts.
One perk of being a volunteer is the classes and programs that are offered frequently, on everything from Local Ecology to Conservation to presentations about specific animals.  And there are opportunities to participate in conservation programs.  Volunteers often become friends.  Pasrich again, "I enjoy the social bonding and peer socialization."
For more information go to sbzoo,org/about-us/volunteer-at-the-zoo.  Or call Shomari McLemore at 962-5339 ext. 153.