Jess Nikolai at the kiosk at the Main Street Bridge
by Jill Forman
Jess Nikolai is an ebullient 20-something who loves birds and possums and wildlife.  As the Preserve Manager for the Ventura Hillsides Conservancy, part of her job is patrolling the Willoughby Preserve where the Main Street Bridge spans the river.
"The…Conservancy has spent the past three years…removing invasive non-native plant species and clearing over 1,000 tons of trash from the river bottom.  Our hard work is paying off and today we are seeing the return of native wildlife and plants," she says.
She frequently laces up her hiking boots and takes to the trails of the preserve, looking for refuse and pollution.  Your intrepid writer went along with her last week.
"Hello!  Anybody home?" she calls outside of a tent.  No answer, so she takes note of the location to notify someone to come back later.  "Look at this garbage," at another place, and out comes her cell phone to snap a photo.  The city crew will come pick up that trash.  We check the progress of the arundo removal (arundo donax, an invasive reed, has taken over large swathes of the river bottom.)  Some refuse piles seen on previous patrols have been picked up, some have grown, some are moldering.
The river bottom is a patchwork of ownership and jurisdiction.  "We work closely with all of the river property owners, including California State Parks, the Ventura Police Department, Ventura County, and the City of Ventura."  She and I walk over not only the VHC property but parts of the State Parks and other owners' areas.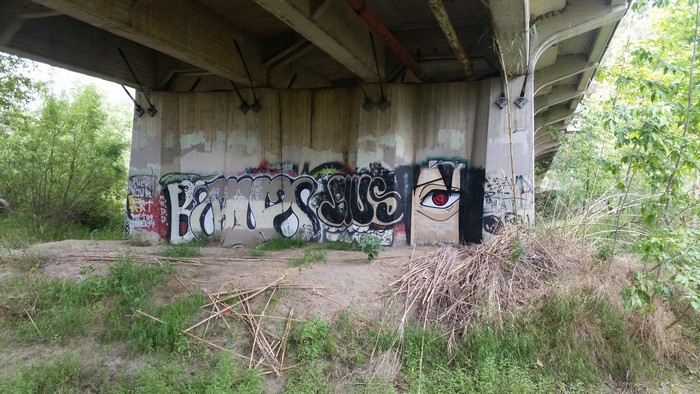 She feels badly when telling folks they can't camp there.  "We understand that the folks who end up camping in the river bottom are usually down on their luck, but it is illegal for them to be there.  Not only is it unsafe for them, they usually are living in very unsanitary conditions that can negatively impact their health and the health of the river's ecosystem."
We decide to cross over to the island in the middle of the river, using a makeshift bridge of logs, planks, and rocks.  Yours truly needs a stick for balance, while Jess hops over like the nature girl she is.  There has been a crew on the island recently from the Coast Guard, cutting arundo and hauling away garbage, and we are checking out the current status.  It's looking better but a lot more needs to be done.
Nikolai is actively seeking more volunteers to patrol with her; it is more secure to travel in pairs.  "Our goal in monitoring and patrolling the Ventura River estuary is to keep it clean and safe.  We work with volunteers to clean up trash, clear trails and report any illegal activity."  Anyone interested in joining her, learning about this natural area, and helping keep the area safe and environmentally viable, can contact her at jess@venturahillsides.org.