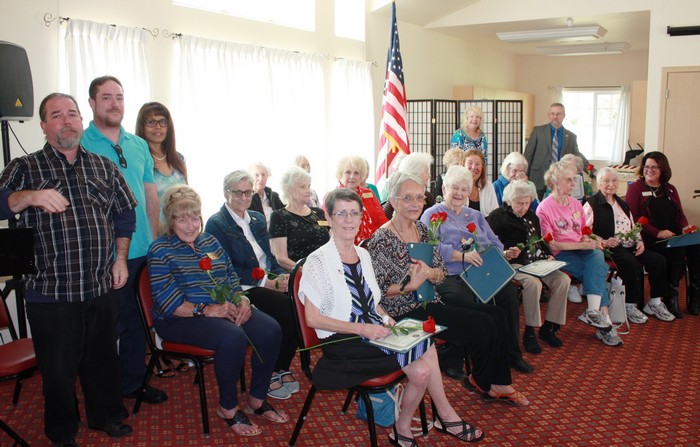 At a "We Honor Veterans" Ceremony in March of 2015, when Richard Bryan asked Diana Davis if Livingston Memorial Visiting Nurse Association (LMVNA) had ever honored military spouses, she was touched by the suggestion and determined to make it happen.  And it did.  Unfortunately, Bryan, a Navy Corpsman and double Purple Heart recipient was not there to witness it.  He passed away in December, 2015.
On May 6th, 43 spouses' names were called at a ceremony hosted by Bonaventure Senior Living, including Bryan's wife Sheila, who was accompanied by her sons, Erin and Christopher.
Diana introduced Mike McManus, Ventura County Veterans' Services Officer and Chairman of the Board for the Ventura County Military Collaborative (VCMC),  who said a few words about the importance of the role of spouses "holding down the fort" at home.
McManus announced the names of the honorees while Mandy Furlong, Hospice Director of Patient Care Services for LMVNA pinned each recipient with a flag.  Diana Davis, MBA, Branch Business Manager for LMVNA handed each spouse a long-stemmed red rose, donated by Sweet Pea Florist of Ventura.
Kim Evans, Executive Director and Founder of VCMC also spoke, saying this was probably the first time some of these women had been honored.  Kim is the wife of Master Chief (Ret.) Michael Logie, US Navy, and was one of the recipients of the honor.
Words of recognition and appreciation were delivered by representatives from the offices of U.S. Rep.  Julia Brownley, D-Westlake Village, and Assemblywoman Jacqui Irwin, D-Thousand Oaks.  Ms. Brownley serves on the House Veterans Affairs Committee.
April Davis, accompanied by David Haynes, sang a heart-rending song, "The Locket".  Teresa Pavan, Vice President/COO for LMVNA, read "A Soldier's Promise" and "An Army Wife's Promise" by Megan Williams that brought tears to everyone's eyes.
We believe Richard Bryan would have been very pleased to see his vision of honoring military spouses has been realized.