Bronze Star Medal winner honored at Buena High. Photos by Michael Gordon
On April 7 Buena High School social studies teacher Emmet Cullen received the Bronze Star Medal at a ceremony held at Buena High School. Military veteran and high school teacher Emmet Cullen was awarded the prestigious Bronze Star Medal for recognition of his service in the U.S. Army  before his family, hundreds of students and dignitaries. He fought in both Iraq and Afghanistan as a sergeant.
Congresswoman Julia Brownley (26th congressional district) bestowed Emmet Cullen with the Bronze Star Medal after a musical presentation by the award winning Buena High School Marching Band. She was "Was humbled and honored to be able to be at the awarding of this Bronze Star."
In accepting the medal Emmet told the large gathering.
"Dear Students, Staff, and Special Guest Congresswoman Julia Brownley,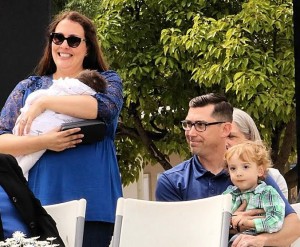 Thank you so much for joining my family and I in accepting this great honor. I would like to begin by thanking the uniformed service personnel present for their dedication, sacrifice and devotion to our country in this ongoing time of the global war on terror.
Thank you also Congresswoman Julia Brownley, for your offices outstanding service in helping to process this award through the Department of the Army some 9 whole years after it was initially lost. An extra special thanks to the Congresswoman for coming to Buena High School to highlight and bear witness to our many award winning programs!
It means so much to me to be able to gather here with my family, friends, colleagues, and of course the students of Buena High School. I began my teaching career with this year's graduating class of seniors as a young-faced and frightened student teacher not 5 years ago. Imagine that, a decorated combat veteran afraid of a class of 8th graders? But there I was, terrified. Luckily, I had you, our graduating class, to train me. We have come a long way together these past years, and I could not be more proud to watch each of you walk this coming June.
I have enjoyed getting to know this year's freshman class, and experienced your loss right along your side. We are all a family here at Buena High School, and we will continue to grow and prosper as a family over these coming years.
Thank you."
Proud Principal Bobbi Powers said "The entire Buena community is so proud to have a hero amongst us, and we are grateful to have Mr. Cullen as a teacher serving our students."