The Laby's passion, along with their philanthropy, has enriched many lives.
On Valentine's Day, Feb. 14 a Harmony Project of Ventura County Celebration Lunch "For The Love of Children, Community and Music" was held at the Marriott Ventura Beach. The lunch was presented by the New West Symphony League to award Sandra and Jordan Laby the 2016 Humanitarian Award of the Harmony Project.
Harmony Project of Ventura County is a tuition free after school youth development program that provides high quality music instruction to students from low-income families. It serves students from third grade through high school. TheHarmony Project of Ventura County was started at Sheridan Way School in Ventura with 15 students who would not otherwise have had access to musical instruments and lessons.
In 1979, Jordan and Sandra Laby moved to Ventura after falling in love with Ventura's beauty and arts.
They made it their mission to unearth the artistic talents in Ventura.  This passion, along with their philanthropy, is the reason the New West Symphony selected them for its 2016 Humanitarian Award.
Diane and Peter Goldenring presented the 2016 Humanitarian Award to the Laby's. In presenting the award, Peter Goldenring stated, "I want to thank all of you for being here today.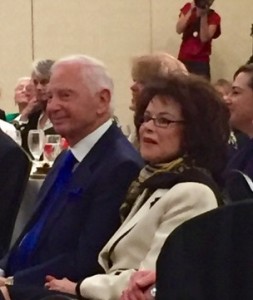 We are all here honoring Jordan and Sandy for being bright lights and leaders in philanthropy and for making a huge difference in people's lives. Some would call what Jordan and Sandy do quiet acts of generosity. When done they never know whether or not it will change a life, be something big or be small. It doesn't matter."
Sandra, who loves to dance and has performed Flamenco, ballroom and other types of dancing in shows as a hobby,  was one of the ladies of the "Hot Dames" 2010 Calendar celebrating the Rubicon's year of shows. She has also performed in the Ventura County Ballet Company's annual Nutcracker.
Her accomplishments are many including President of the National Council of Jewish Women Ventura County, named the Jewish Federation "Woman of Valor", honored as the Mayors Arts Award, the Ventura Music Festivals First Founders Award, the Ventura Interfaith Ministerial Award as "Woman of Vision", Ventura Chamber of Commerce "Shining Stars" and Ventura County Ballet Company "Partner in Dance Award.
The way Sandra sees it – art and life are intertwined.  A local visionary, Sandra helps keep that gift alive. These gifts are rich in more than finances; as she has been instrumental in the startups of key cultural venues like the Rubicon Theatre Company, Ventura Music Festival, and many others.
Another unique facet of Sandra's local contribution is the San Buenaventura Foundation for the Arts which she and Jordan, founded in 1999 to bring various artists and arts organizations together.
The Laby's have given scholarships through the "Phoenix Program" at the Ventura College Foundation.  And she was one of the producers of a Ventura Music Festival film about our very own home grown opera singer, Nicole Cabell.
The lunch ended with the Harmony Project of Ventura County orchestra entertaining the attendees with some wonderful music.