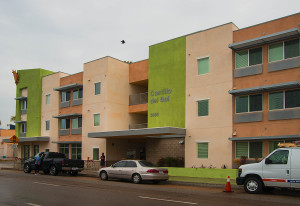 Photo by John Ferritto
The Housing Authority of the City of San Buenaventura (HACSB) has announced the completion of a comprehensive $11.6 million construction project that will create 39 new efficiency apartment units for extremely low income individuals with special needs. Through its high performing Housing Choice Voucher program, the HACSB provided long-term project-based voucher rental assistance subsidy to finance the construction and ensure long-term affordability to those earning less than thirty percent of the area median income. The HACSB also received a competitive award of 9% Low Income Housing Tax Credits in June 2014 from the California Tax Credit Allocation Committee that was used to fund the construction.
The new apartment building is located at 3005 E. Main Street in Midtown Ventura. Construction began on the site, at the corner of Central and Main, in December 2014. The HACSB partnered with Montecito Bank & Trust, National Equity Fund, McCarthy Companies, and Main Street Architects to create a new, energy efficient, accessible, and affordable housing development to add to the city's dwindling stock of deeply affordable housing.
"This project is unique in the population that we will be serving, only made possible by the number of quality partners involved. This project brings new life to the old "Bandar" site that has been vacant for a number of years," said Denise Wise, Chief Executive Officer of the HACSB.
The HACSB is the largest residential landlord in the City of Ventura, with 574 public housing units, more than 1,500 Section 8 vouchers, and over 250 non-profit affordable rental units. The agency is actively working to increase the supply of affordable housing and to improve the quality of life for hundreds more of the low-income residents.