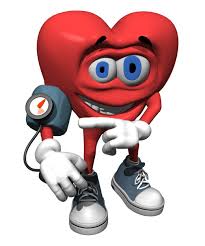 This American Heart Month, the Centers for Disease Control and Prevention (CDC) and Million Hearts®
–a national  effort to prevent 1 million heart attacks and strokes in the United States by 2017–are encouraging Americans to  know their blood pressure, and if it's high, to make control their goal.
Uncontrolled high blood pressure is a leading cause of heart disease and stroke. In fact, more than 67 million  Americans have high blood pressure. People with high blood pressure are 4 times more likely to die from a stroke  and 3 times more likely to die from heart disease, compared to those with normal blood pressure.  High blood pressure often shows no signs or symptoms, which is why having your blood pressure checked  regularly is important.
If you know you have high blood pressure, take these steps to help get it under control:
Ask your doctor what your blood pressure should be.
Take your blood pressure medicine as directed.
Quit smoking—and if you don't smoke, don't start.
Reduce sodium intake.
For more information go to: http://www.cdc.gov/Features/HeartMonth/index.html