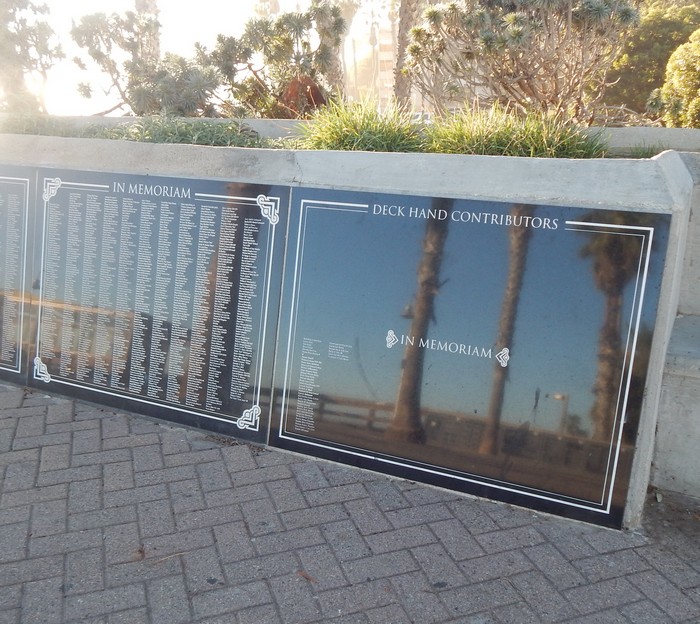 In celebration of the City of Ventura's 150th Anniversary, Pier into the Future is offering deckhand engravings at a reduced price of $150 through March 1, 2016. This is a savings of $25 per engraving.
Commemorate that special loved one or honor your family with an engraving in granite on the historic Ventura Pier. The $150 donation includes your name, or the name of a loved one, engraved on a granite honor roll at the entrance to the pier, a plank "grant deed" suitable for framing and a collector's edition lapel pin. A special memorial section is available for donations in memory of an individual. Orders received by March 1, 2016 will be engraved prior to the City of Ventura's 150th Anniversary on April 2, 2016.
"This is the perfect time to have your name engraved in granite at the historic Ventura Pier, all while helping to raise funds to keep the Pier well maintained", said Pier Into the Future Executive Director Jenise Wagar. The organization was founded by a group of dedicated community leaders, in partnership with the City of Ventura, to establish an endowment fund to maintain and enhance the historic Ventura Pier for future generations to enjoy. The organization has contributed over $500,000 to the City of Ventura over the last 23 years to enhance the Pier.
Engraving forms can be found at www.pierintothefuture.org or by calling 804.7735.