Artistic Director Nuvi Mehta highlighted the new Festival season and the benefits of listening to great music.
Artistic Director Nuvi Mehta announced the artist line-up of the 22nd Festival in a special briefing held at Ventura City Hall on Jan.21. With a new July schedule, the Festival takes place on the weekends of July 15-17 and July 22-24.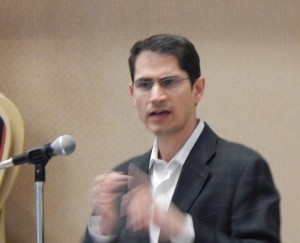 Doug Wied, President of the Board, began the evening by introducing the speakers including City Council member Christy Weir who stated, "I have enjoyed many of their concerts over the years, and one of my favorites is always Tea and Trumpets because our granddaughters love the music and the delicious sandwiches and sweets!"
The Ventura Music Festival was created 22 years ago as a partnership with the City. Since then, it has grown and become successful as a self-supporting community asset. The festival's concerts are a cultural highlight of the year.
Nuvi Mehta, hired as Musical Director 12 years ago, has expanded the festival to include a wide variety of styles of music from around the world. He is a talented violinist and conductor who is a member of the San Diego Symphony, also serving as their Outreach Director and providing pre-concert talks.
The presentation included videos of this year's performers with input from Mehta and an appearance by a trio of last year's young jazz finalists who played several outstanding pieces. Mehta also gave a brief violin recital.
The Board of the Ventura Music Festival has announced Susan Scott as their new Executive Director. Scott served as Consultant to the Festival last year and is well known to the arts community having directed the three-year Arts Live project of the Ventura County Community Foundation, among many other arts and nonprofit postings.
The Festival leads off on July 15th with the stunning piano duo Anderson & Roe and ends with Composers & the Movies, a unique blend of symposium and concert.
In a special pre-Festival program on Thursday, April 21st, VMF presents its First Annual Cabaret, featuring TV, stage and night club star Linda Purl.
Other pre-Festival programs include the Student Jazz Competition on March 13, with a public performance at 1pm, and a Rising Stars concert on May 6th at 8pm featuring outstanding young
classical musicians, the Camerata high school singers of the Las Robles Children's Chorus, and the winner of the Student Jazz Competition. Thanks to generous underwriting, each of these two programs is free to the public.
Tickets and information to all Ventura Music Festival concerts as well as the April 21st Cabaret, go on sale in March. For more information, visit www.VenturaMusicFestival.org or call 648-3146.