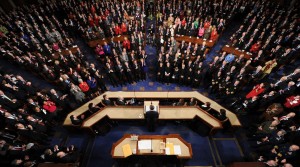 In his final State of the Union address, President Obama called on Congress to strengthen Social Security and Medicare for all Americans. The National Council on Aging (NCOA), the nation's leading advocate for older adults, offers five ways Congress can further support seniors this year.
"Older Americans deserve the support of their families, their communities, and their government to age independently and with dignity," said Howard Bedlin, NCOA Vice President of Public Policy & Advocacy. "We made important progress in 2015, but there is still work to be done on behalf of our nation's seniors, especially those who are struggling. We are ready to work with Congress to find bipartisan solutions."
In 2016, NCOA urges Congress to:
Renew the Older Americans Act (OAA) and Elder Justice Act (EJA)
Renewing the OAA and EJA—both overdue for reauthorization—will strengthen and modernize aging services to meet the diverse needs of the growing older population. The OAA funds critical, cost-effective programs, including job training and placement under the Senior Community Service Employment Program (SCSEP), health promotion and disease prevention, senior nutrition, senior centers, caregiver support, and more. The EJA provides for a nationally coordinated, multidisciplinary approach to the silent crisis of elder abuse, neglect, and exploitation.
Restore investments in aging services
Community services help older adults improve their health and economic security, allowing them to stay independent and avoid costly care. Yet, investments in these services have failed to keep up with costs and the rapid growth in the senior population Despite recent relief from budget caps, FY16 non-defense discretionary funding remains 12% below its FY10 level, and FY17 funding will fall to an historic low as a share of the economy, resulting in service reductions and growing waiting lists for older adults and their families.
Advance legislation to improve access to Medicaid home and community-based services and finance long-term care (LTC)
The number of Americans needing LTC will more than double as the baby boomers age. Medicare does not cover it, and private LTC insurance is unaffordable for most. Seniors often have to spend-down their life savings into poverty before getting help from Medicaid—which has an institutional bias, with mandatory nursing home but optional home care coverage. Several Medicaid reforms to promote access to home care have or will expire, including Money Follows the Person, which expires this year, and the Balancing Incentives Programs, which expired last year.
Improve chronic care under Medicare
The vast majority of older adults cope with multiple chronic conditions, which account for 95% of their health care costs. Last year, the Senate Finance Committee formed a bipartisan Chronic Care Work Group, co-chaired by Sens. Johnny Isakson (R-GA) and Mark Warner (D-VA) to improve chronic care for Medicare beneficiaries.
Introduce legislation to address the Medicare low-income protection cliff
For Americans under age 65 receiving health insurance through the Marketplaces, eligibility for cost-sharing assistance is set at incomes below 138% of poverty, with no asset test. Yet for those on Medicare, eligibility for this assistance is set at 100% of poverty, with a stringent asset test that penalizes those who do the right thing by saving. At the same time, the average Medicare household spent 14% of total costs on health care in 2012, while non-Medicare households spent just 5%. Beneficiaries with incomes between 100% and 200% of the Federal Poverty Level (FPL) feel the heaviest burden of out-of-pocket health care spending.
To learn more about the pressing senior issues Congress can address this year and how to take action, sign up for NCOA's advocacy alerts.The National Council on Aging (NCOA) Learn more at ncoa.org and @NCOAging.