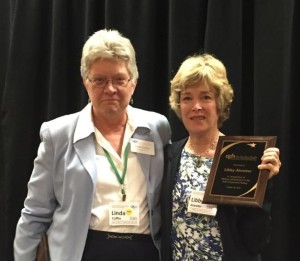 Ventura resident Libby J. Atwater recently received a lifetime achievement award in the field of personal history at the 20th Anniversary Association of Personal Historians, Inc. (APH) Conference. As a journalist and personal historian, Atwater has helped others tell their stories for the past 24 years by writing articles and books as well as recording audio interviews and creating DVDs. She has served APH on its Executive Committee as its secretary, Print Communications Director, Toolkit Editor, newsletter editor, workshop presenter, and as the Marketing Team Leader for this hallmark anniversary conference.
APH is an international organization with nearly 700 members throughout the world. Conference attendees came to this year's Sacramento-based conference from as far as Israel, Brazil, and Australia.
Atwater has been transitioning from teaching life-writing classes; volunteer activities, such as chairing the Oral History Program at the Museum of Ventura County; and writing others' stories to writing her own series of memoirs. Her award-winning tale of her early life, What Lies Within, began a quartet now in progress. The paperback book is available through her new website www.LibbyAtwaterBooks.com and on Amazon and Apple as e-books.
Her next book, The Spirit of Villarosa, a true adventure that tells the story of the extraordinary life of Horace Dade Ashton, a man dubbed the "original Indiana Jones" and his son Marc, who was kidnapped in Haiti in 2001.
Atwater has written articles and spoken to numerous groups about her work throughout her career. She is available for speaking engagements and books signings. To book an engagement, please contact Libby@LibbyAtwaterBooks.com.