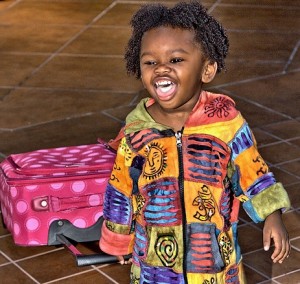 Sometimes it's the little things that make a big difference.  At least that's what the residents and staff at Cypress Place Senior Living in Ventura were hoping when they launched their Suitcases For Kids fundraiser in mid-September of this year.
Through the program, the senior community began collecting suitcases for children in the Ventura County Foster Care Program.  "When a child enters foster care for the first time, it is usually in a time of crisis and confusion.  Often the child's possessions are hurriedly stuffed into a garbage bag or box," said Patti Hunt, past president of the Ventura County Foster Parent Association.
The child then shows up at the doorstep of a foster home, frightened and scared, holding this trash bag or box according to Hunt.
"All of us here at Cypress Place Senior Living feel a child's life is worth more than a trash bag or box," said Mike Macke, one of the marketing directors at the senior community.  "That is why we began collecting the suitcases to give to these children."
And collect them they did.  From September 16th until October 16th, 2015, the senior community collected over 300 suitcases from a variety of donors throughout Ventura County.   "The amount of donations was absolutely amazing.  We can't thank everyone enough," said Macke.
Foster children were then invited to the senior community on December 8 to pick out a suitcase of their own choosing, visit with Santa Claus, create their very own decorative luggage tag, and enjoy hot chocolate, cookies, and holiday cheer by Cypress Place residents, who couldn't wait to welcome the kids.
"Our hearts go out to these kids, and we just want to show them as much love and affection as we can," said Ginny Gordy, one of the residents at Cypress Place who volunteered her time for the fundraiser.  "It brightens our day to see their beautiful, smiling faces.  I think it's as beneficial to us as it is to the kids," added Evelyn Clifford, another Cypress Place resident who volunteered to help.
According to Hunt, whose parents also reside at Cypress Place, and who were instrumental in the suitcase giveaway as well, a suitcase not only benefits the child, but also the foster family because it is one less expense for the family.   "I was a foster parent to over 170 children," said Hunt.  "This suitcase collection means a lot, and I know my parents love being part of it as well."
For more information about Cypress Place Senior Living of Ventura please call 805-650-8000 or visit their web site at www.cypressplaceseniorliving.com.