Patti Channer, Joe Cahill, Executive Director/VBG speaking, Leah Filonuk, Kathi Filonuk (Gary's sister), Patti's sister Kathleen Morris, niece Stacia Nadelman and cousin Marilyn Hefferen attended the very special occasion.
On May 17, 2013 Dr. Gary Channer passed away peacefully in the loving arms of his wife, Patti at the young age of 66. Gary, the middle child of Alverna and Charles Channer, was born on September 23, 1947 in Rockville Center, New York.
In 1977, Gary and Patti moved to Ventura where he associated with Dr. David Ashrow, the first Pediatric Dentist in Ventura.  After Dr. Ashrow retired, Gary opened his new office on Victoria Avenue.  After a wonderful 27 years, he retired in 2004.  Gary and Patti were married for 41 years.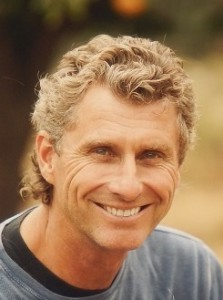 On Friday, Nov. 20 a dedication celebration was held in Grant Park to dedicate Gary Channer's new site located at  the Ventura Botanical Gardens.
Hundreds of friends and city dignitaries were there to help Patti celebrate the memory of  her late husband Gary.
At the dedication Patti told the well-wishers that "Feeling gratitude and not expressing it is like wrapping a present and not giving it. This dedication today honoring my wonderful guy for me…… is all about living in gratitude.
"Gratitude for all the years Gary and I shared, today would have been our 44th Wedding Anniversary."
"Gratitude for all we created together and for our shared love of family."
"Heartfelt gratitude to all who contributed to Gary's legacy of "livin' the dream". Starting with those who had the vision and commitment to create this "Jewel of the Central Coast"- The Ventura Botanical Gardens."
"I am honored and eternally grateful to Paul Lindhard, Founder of Art City Studios and dear friend who chose each stone and designed Gary's site with his Art City support team of earth movers and stone artists."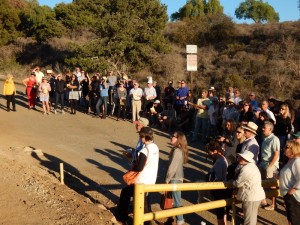 "This location was chosen to represent the first trail of Gary's life crossing over the road and starting his 2nd journey. I also know that Gary is happy with the knowledge that he has gifted our community with this site for all to enjoy."
"Profoundly saddened by the loss of "my wonderful guy" my heart lifts in gratitude for the richness "Gary the Golfing Gardener" has brought to our lives.
"I want you to know that I am ever so grateful for you, my community and thank you for being here today and walking this path with me."
Commemorative golf balls inscribed "Gary the Golfing Gardener" were passed out to those in attendance.