On Veterans Day, November 11 Cypress Place Senior Living in Ventura honored residents of the senior community who served their country, including Donald G. Wright, Captain, U.S. Army Retired.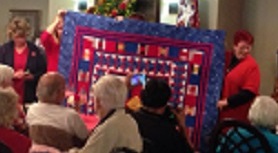 Captain Wright turned 102 on Veterans Day, and in appreciation of his years of service to his country, Quilts of Valor honored him with a handmade quilt.  With his children looking on, Wright beamed with pride as he accepted the personalized quilt, designed to both comfort and heal veterans and service members who have been touched by war.
"We are here to honor all our veterans with this personalized quilt", said Pat Blanchard, a Thousand Oaks resident and member of Quilts of Valor, a national organization of volunteer members who create the quilts.
Photos of Wright from his younger years were on display at the senior community as part of the celebration.  When asked about the key to his longevity, Wright quipped, "I ate a lot of shredded wheat."   Even at his advanced age, Wright is an active member of the community, participating in many events, and engaging fellow residents, family members and friends in lively conversation.
"It was just the perfect day," said Susan Westover, one of Wright's daughters.  "Not only for my dad, but for the entire family.  We can't thank Cypress Place enough."
Next up the senior community will host their annual Candlelight Memorial Service on Wednesday December 9th, 2015. This touching event is in loving memory of those who are no longer with us but are forever present in our hearts.
The candlelight service will be led by Pastor Leonard DeWitt, Pastor to Senior Adults at Ventura Baptist Church.  There will be speakers, music, and attendees will be able to light a candle in honor of their loved one.
The free memorial service begins promptly at 5:00 p.m. at Cypress Place Senior Living in Ventura and is open to the public.    Light refreshments will be served.
Cypress Place Senior Living is located at 1200 Cypress Point Lane in Ventura.  Seating is limited so please call to reserve a seat. For more information or to RSVP, please call 650-8000.
To learn more about Cypress Place Senior Living of Ventura, visit their web site at www.cypressplaceseniorliving.com.