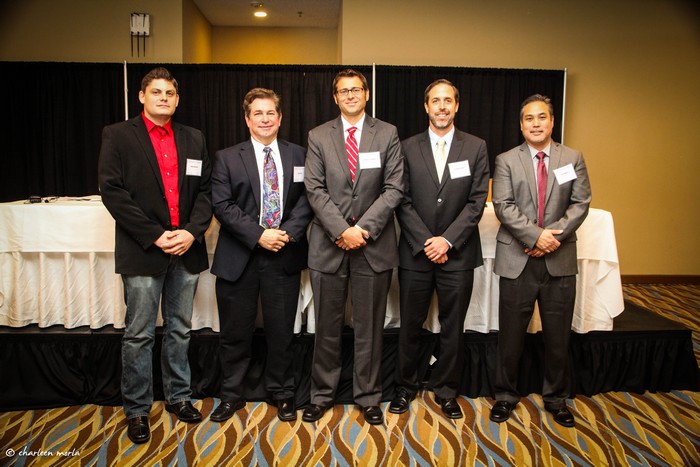 On Oct. 14 the Chambers of Commerce Alliance of Ventura and Santa Barbara Counties hosted The Future of Energy: Energy & the Environment which brought industry professionals, local leaders and community members together to explore the complex issues of energy production, renewable resources and responsible energy use in California held at the Crowne Plaza Ventura Beach. The sold out event kicked off with a panel discussion featuring speakers representing the various sectors of energy including sun, wind, petroleum, biofuels, battery storage and electricity. The panel, moderated by Bruce Stenslie, President/CEO of the EDC-VC, was aimed to provide a balanced discussion about energy needs and energy realities as it relates to the various energy sectors.
Robert Grundstorm, Vice President of Planning and New Ventures for California Resources Corporation served as the panelist representing the petroleum industry. He addressed a variety of topics including hydraulic fracturing, stating that it is not a new process and is heavily regulated in California. Jonathan Koehn, Director of Project Development for Infinity Wind Power, provided insight into wind-produced energy and identified California as a low-feasibility state for this type of energy production.  Jeremy McCool, Business Development Manager for Desert Solar Inc., said the current trends in solar are reflective of energy-storage options including battery storage for extended use. Erik Takayesu, Director of Electric System Planning for Southern California Edison, spoke about increasing capacity on the grid and developing battery storage options to increase energy resources during peak times. Paul Hullar, Founder and CEO of Brightwave Energy, asserted that fossil fuels will continue to be a vital part of the community. He also addressed the exploration of solid waste gasification, biodigesters and microturbines for electricity output.
Alex Epstein, New York Times best-selling author of "The Moral Case for Fossil Fuels," was the keynote speaker. He energetically addressed the audience, donning an "I Love Fossil Fuels" T-Shirt and defining two typical views of fossil fuels: They're either a necessary evil that we need to stop using or it will take years to get off fossil fuels all together. Epstein's assertion, however, was that fossil fuels are not evil and should be used more. Epstein suggested fossil fuels are in fact anti-pollution and pro-development. His moral philosophy suggests people look at the big picture and develop a clear standard for examining use.  Epstein noted that people see fossil fuels as "dirty." He argued that they can only be identified as dirty because they come from fossilized plants that have been in the ground and that they truly are a renewable resource. He called them original green energy. His thought-provoking presentation left attendees with much to think about regarding the subject of fossil fuels.
Epstein emphasized that human ingenuity makes all resources valuable and that we are running out of the ability to seek new forms of energy. Ultimately, he said, it is up to us to maximize human-wellbeing while minimizing impact.