FACE OF VENTURA AWARDS by Sheli Ellsworth
Ventura's Unsung Heroes sponsored by Jordan and Sandra Laby and painted by Johanna Spinks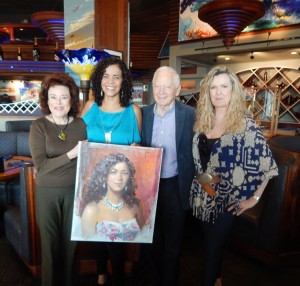 While Americans heard about the Sandinista Revolution and the Contra War on the nightly news, Elizabeth Cornejo heard the explosions with her own ears.  "I would lie in bed at night listening to bombs. I grew up surrounded by war." Cornejo's father was a mechanic who supplemented his income by selling corn and beans from the mountain farms. "War destroyed everything. We had very little." Cornejo lived close to the Honduras border and remembers running home from school and hiding under her bed for hours at a time when the sounds of war came near.
And somehow a young girl from war-torn Nicaragua had a dream. "I watched beauty pageants from Honduras on a small black and white television when we had reception. It was beautiful. The gowns, the style." Cornejo developed a passion for fashion.
Cornejo came to Ventura by herself in 1995, moved in with a friend, and asked for political asylum. "This really is the land of opportunity," she says. But her success didn't happen overnight. "Even though I had a business degree from Nicaragua, I had to start over with ESL classes." She worked as a nanny and housekeeper while she was seeking citizenship. She took computer classes. Then she went to work at Patagonia through an agency and was eventually asked to do fit modeling for them. It was five years before she was granted residency and another five years before obtaining political asylum and citizenship. Later she went to work for Marcy's European Tailoring and Alterations. The owner, Marcy Brunson, became a mentor to Cornejo and subsequently sold her half of the business. Cornejo loves Ventura and she says she's been lucky, "God has opened so many doors for me." Cornejo is now the owner of Just Lovely Fashion and Alterations at 2692 Loma Vista Rd. Unit B. She does dress making, bridal alterations, tailoring and mending. But Cornejo's story doesn't stop here. She believes in helping.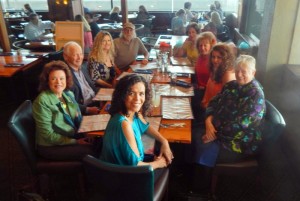 At first on her own, later with the help of her customers, Cornejo has launched her own personal charity for her country of origin. "I save my tips and buy things for the children of Nicaragua." She takes clothing, shoes, food, medicines, school supplies and anything else that is needed." Since Cornejo has two sisters and two brothers she also has a lot of resources in her homeland. "My family in Nicaragua helps me buy and distribute things to children and seniors. They find out what people need and try to make it happen. "My Ventura customers have been so good to give me donations and now we are trying to help a hospital. Cornejo uses Nicaraguan churches for resources also. "The nuns tell me what they need and what types of health issues they see." Cornejo doesn't have any children of her own, but considers the children in Nicaragua her own. Because she considers education the key to success, Cornejo has also provided several schools with much needed supplies.
Making connections has become a part of Cornejo's mission. She was able to find a local coffee roaster, Beacon Coffee, to buy coffee beans raised by her father. Now the coffee is sold in local restaurants. "I went to the Multicultural Festival in Oxnard and answered a lot of questions about Nicaragua and created connections with many people."
Cornejo already has local nurses interested in making the trip to Nicaragua. "After the nurses see the conditions they will know what kinds of supplies will help the most." Cornejo is always collecting toothbrushes and toothpaste, but because shipping is so expensive she appreciates it when people can ship the items directly. She is currently looking for volunteers to send multivitamins for children and seniors.
"A little girl in 4H put together 35 backpacks with school supplies and shipped them to Nicaragua. It was like a dream come true." Cornejo accepts cash donations also and anyone interested in helping her can email her at ecornejo53@gmail.com.