Guests gathered in the Laby's living room after enjoying a wonderful dinner to listen to Artistic Director Nuvi Mehta.
On October 1, at the beautiful home of  Sandra and Jordan Laby a Ventura Music Festival  Donor Appreciation and 2016 festival preview was held before about 30 invited guests.
Betsy Chest past Board President, Doug Wied  current Board President and Artistic Director Nuvi Mehta welcomed the guests and spoke about the plans for next year's concert series.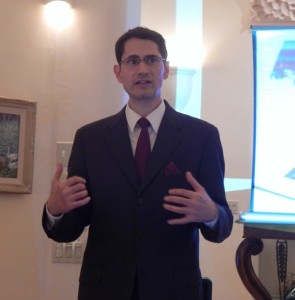 Artistic Director Nuvi Mehta told the gathering that the Festival will start in July instead of the usual May and explained the reasons for this decision. He presented a multi-media of the "possible" acts that will be featured in next year's VMF but explained that not all contracts have been signed so names of the performers cannot be divulged yet.
For the first time the Festival will have a theme and it will be the piano, from jazz to classical. In keeping with this pianist Egle Januleviciute  played magnificently for the event on the Laby's recently tuned grand piano.
A wonderful dinner was served that included salmon, chicken and lasagna prepared and served by   Regina's Catering of Ventura. Wine and deserts were also available.
Jordan and Sandra Laby  told the Breeze "We have been with the Ventura Music Festival from the very beginning of its inception with Sonia Towers, Elena Brokaw and our then city administration.  We believe in the concept of  this music festival of bringing world class entertainers to our intimate venues in our city.  We value the collaboration of  all the arts in this city such as the Ventura county Ballet Company, the Rubicon Theater, the New West Symphony and the many varied artists that have contributed to making our festival such a huge success for the last 21 years.   With great joy we have opened our home each year for a celebration and introduction into the next years music festival season."
In 1994 the Ventura Music Festival was created calling for "creation of an artistically focused music festival Burns Taft was named its first Artistic Director.  As far back as 1998 the Laby's received the first Festival Founders Award. Ventura is lucky to have them, and other wonderful supporters of the arts that help to enrich out lives.
"The Ventura Music Festival Board has recently concluded a productive year-long organizational assessment that resulted both in a renewed vision for going forward and, we believe, in a sustainable budget. The vision includes moving the Festival from May to July, which is viewed as a more optimum time for music Festivals and also provides for a pre-Festival series of more intimate concerts and events designed to bring our supporters closer to VMF, one another and the music. We're excited about the changes and feel ready to commence our search for a new full-time Executive Director" said Doug Wied.
"Susan Scott, our wonderful "Consultant to the Festival," has helped lead us through this important year of assessment, decision-making and renewal. While she continues to work hard on VMF plans for the coming Season, she is eager to move on to her next assignment and see VMF welcome a new ED. Please join us in thanking her and in supporting our search if you can."