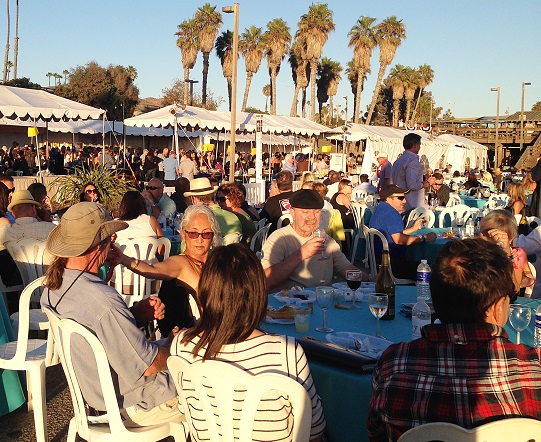 Tasting handcrafted beer and sampling cuisine from over 30 local restaurants is a great evening.
By David Fukutomi, President, Pier into the Future Board of Directors and Jenise Wagar, Executive Director, Pier into the Future
The Board of Directors is proud of the accomplishments of our organization this past year.  Since January we have:
Made a presentation to the Ventura City Council on the status of the our efforts and the need for ongoing support from the Council to address deferred maintenance issues.
Deposited  $139, 603  into the Ventura County Community Foundation
Pier Fund….money raised from the community!
Purchased 10 new benches to be installed on the Pier.
Participated in the sand art event featuring Andres Amador at the Pier.
In addition with the most recent deposit mentioned above, we have now contributed $1,000,000 into the Pier endowment. Interest accumulated in the fund has been used by the City of Ventura to address operational costs of the pier.
The City has taken an important first step by seeking a study of critical work that has been identified to preserve the pier. We encourage everyone in the community to continue to keep the pier in the forefront of your thoughts and urge the City Council to make a priority of considering it's on going needs in order that it remain safe, accessible and a most visible treasure.
The fund raising effort has truly been a grass roots effort. Proceeds have been raised in many ways including: selling deeds to planks, memorials on the granite panels and benches, tickets to our events, sales of pier related items and generous support from individuals and businesses in Ventura and the region.
Thank you for your continued support of the Pier. We look forward to continuing to work on your behalf to ensure that the Pier is part of our future and
Don Mills, Board Member, Pier into the Future said "Each year at the annual Pier Under the Stars fundraiser a very unique opportunity awaits guests. The chance to bid on a handcrafted Pier Plank bench. These beautiful benches have been craved by me using wood salvaged from the pier. Each bench is unique in design and size depending on what wood may have been removed during maintenance work on the pier. The common feature of all benches created to date are the hand carved words Ventura Pier Plank."
Kathy McAden, Vice President, Pier into the Future stated " It is not often that the community gathers together in one evening under the stars in support of a historical icon but Pier Under the Stars brings together the entire community to raise funds to ensure the historic Ventura Pier remains safe, clean and as beautiful as ever. "
If you would like to get involved in Pier into the Future please email pierintothefuture@gmail.com. Visit www.pierintothefuture.org to get your tickets today.