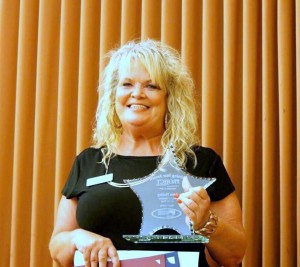 Jann Huling shared Board Member of the Year award
By Veronica Johnson
The annual Project Understanding Shining Star Awards was held Thursday, September 17th, at the Poinsettia Pavilion. Awards are given out in recognition for outstanding community volunteers, partners, staff, and board for 2015.
Awards went out to Administration Volunteer Laura Moline, Tender Life Volunteer Dea Boehme, 1st Step Volunteer Pat Morris, Tutoring Volunteer Lee Weiss, House of Worship Trinity Lutheran Church, Business of the Year Angel Plumbers, Collaborating Partner of the Year Turning Point Foundation, Philanthropist of the Year National Charity League, Inc., Community Partner of the Year D'Augustine Foundation, Donor of the Year Tanner Rhodes, Board Member of the Year Frank Maggio and Jann Huling, Employee of the Year Gloria Lewis, Shining Star of the Year Reggie Watson, and the Shalom Award went out to Clyde Reynolds.
A special moment was when the Board of Director of the year, Jann Huling, was given her award from Cesar Morales, the father a child (Valentina Ava) that Huling was instrumental in helping with in the adoption process.
Special thanks were given to sponsors Ventura County Credit Union, those who donated appetizers and desserts, the Poinsettia Pavilion, Janine Dykstar and Wendy Wells.
Project Understanding provides hope by developing and directing resources for the purpose of transforming lives and community through justice, mercy, and compassion. Through collaboration, they assist people to reach their highest attainable level of independence.