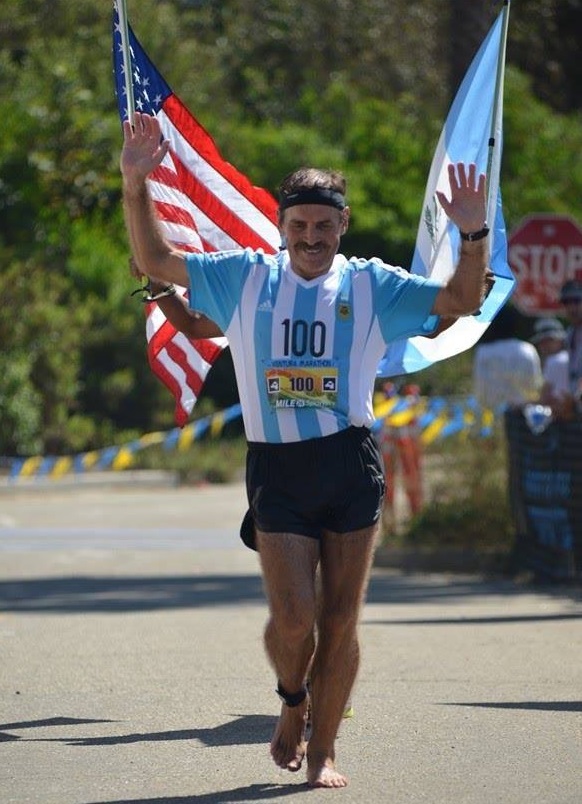 Alberto Perusset, a.k.a. Barefoot Alberto of Malibu, finished the 3rd annual Ventura Marathon, his 100th marathon, wearing bib #100.
By Mira Reverente
The sweltering heat, quite unusual for Ventura this time of year, did not prevent blazing fast times from being set at the 3rd annual Ventura Marathon and Beach Party held the weekend of September 12 and 13 at the Ventura Pier.
Garret Drogosch, 24, of Lake Sherwood, California, dominated the men's field in the marathon with a winning time of 2:34. Michelle Hamilton, 34, of San Luis Obispo, prevailed over the women with a finish time of 3:10.
The flat and fast marathon course took runners and walkers alike from the Ventura Pier to the Port Hueneme Pier and back. The half-marathon course was predominantly ran on the same course, turning half-marathoners around earlier, just before the 5th Street and Harbor Boulevard intersection.
In the half-marathon, 25-year-old Ventura native Isidore Herrera won with a blazing time of 1:05, showing everyone who's boss in his home turf. Among the women, 36-year-old Jennifer Santa Maria of San Diego blazed by with a time of 1:17.
Following Herrera's footsteps, another local, 26-year-old Brittany Oliver prevailed in the women's 5K with a winning time of 20:02. Sean Kelly, 29, of Yucca Valley, won the men's 5K, coming in at 17:44.
A combined total of approximately 3,000 participants completed the kids' run and bike rides on Saturday and the three road races (marathon, half-marathon and 5K) on Sunday.
"We were really excited about the event as a whole and attracted a lot of out of town competitors – 70% of race participants were from outside of Ventura County representing 38 states and eight countries," says Josh Spiker, race director.
"Although the weather was abnormally hot and humid we still had lots of fast times and Boston Marathon Qualifiers," he said.
This year, about 40,000 free race photos were made available through Facebook which was a big hit for the runners, according to Spiker. Photos of interesting finishers such as Malibu resident Alberto Persusset, a.k.a. Barefoot Alberto. This was his 100th marathon.
At the beach party, local and upcoming bands regaled the crowd all-weekend long with rock n roll, reggae, soul, blues and country music. A beer garden, health expo and kids' activities were all part of the weekend extravaganza at the Ventura Pier.
The much-awaited Ventura Marathon is fast becoming a favorite Boston Marathon-qualifier, being the last marathon in the second half of the year to fall within the qualifying window of the prestigious and elite "king of road races."
Since 2013, the Ventura Marathon has encouraged volunteerism and the participation of local schools, cross-country teams and non-profit groups across its many weekend events. Over $80,000 has been raised for local philanthropy.
For more information or to check on results, visit www.venturamarathon.com.