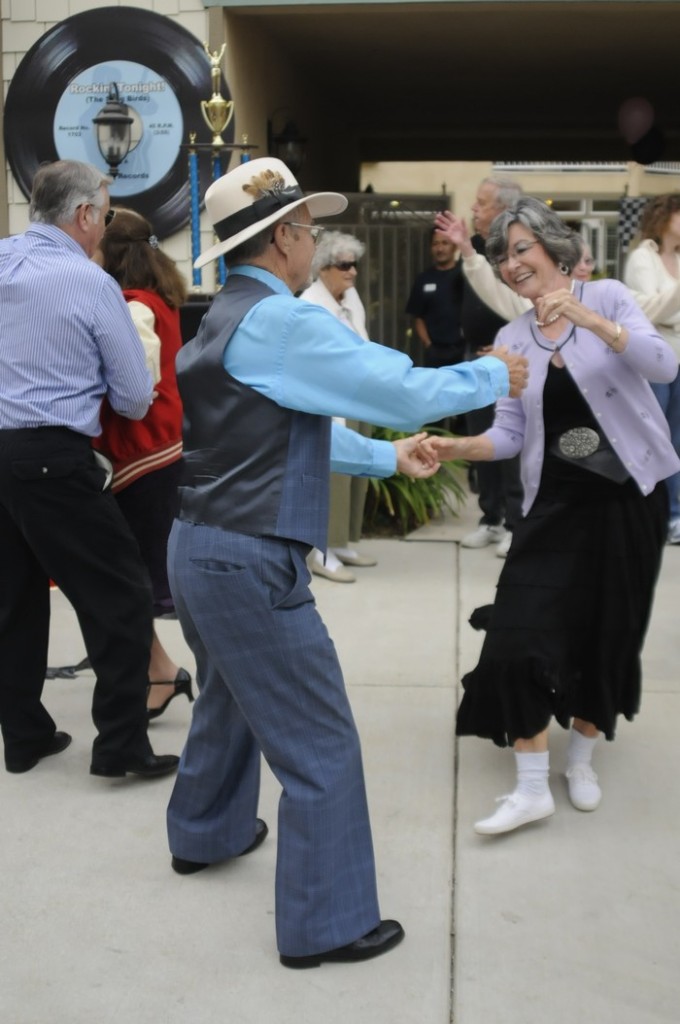 George and Judy Sandoval strut their stuff during a previous classic car show and party at Cypress Place
Enjoy a blast from the past at the Cypress Place Senior Living Classic Car Show & 70's party on Wednesday September 16th from 5:00p.m. to 7:00p.m.  There will be plenty of good old-fashioned fun, so put on your bell bottom pants and platform shoes and come join the fun and festivities.
"Our car show is an annual event for us," said Steve Spira, executive director at Cypress Place Senior Living.  "But for this year's event, we're changing it up a bit with a 1970's theme, and also kicking off a fundraiser to collect suitcases for children in the Ventura County Foster Care Program."
From September 16th through October 16th, 2015, the senior community will be accepting donations of a new or used suitcase to be given to one of the many foster children in Ventura County.  Once the suitcases have been collected, Cypress Place will invite the foster children to the senior community to present them with their very own suitcase according to Spira.
Emcee Bruce Barrios, named the #1 DJ in Ventura County, will spin the tunes for this fun-filled event, featuring classic cars, music, food, dancing, and prizes for best car, best dancers and best outfit.  A new or used suitcase, or a $10 donation per person, is requested for admission.
"Our seniors are so excited for this event, because not only will there wonderful food and entertainment, but they know it will help make a difference in the lives of local children right here in our community," said Yvonne Knepper, one of the marketing directors at Cypress Place.
The event is open to the public.  Free shuttle parking will also be available at Unitarian Universalist Church of Ventura, 5654 Ralston St, at the corner of Cypress Point Lane and Ralston Street.
If you are looking for a blast from the past, put on your best 70's outfit, grab a suitcase, and come strut your stuff under the glow of a disco ball, all while supporting the children in the Ventura County Foster Care program.
Cypress Place Senior Living is a premiere senior community in Ventura County.   The beautiful senior living campus features an Active Senior Living community and adjacent Assisted Living and Alzheimer's/Dementia Care community connected by a lushly landscaped courtyard.
This safe, loving environment offers residents a continuum of care through life's transitions.  Amenities include three meals daily, weekly housekeeping, transportation, activities, utilities, as well as personal caregivers and laundry service in the Assisted Living and Memory Care communities.
Cypress Place Senior Living is located at 1200/1220 Cypress Point Lane.  For more information or to RSVP, please call 650-8000 or visit their web site at www.cypressplaceseniorliving.com.