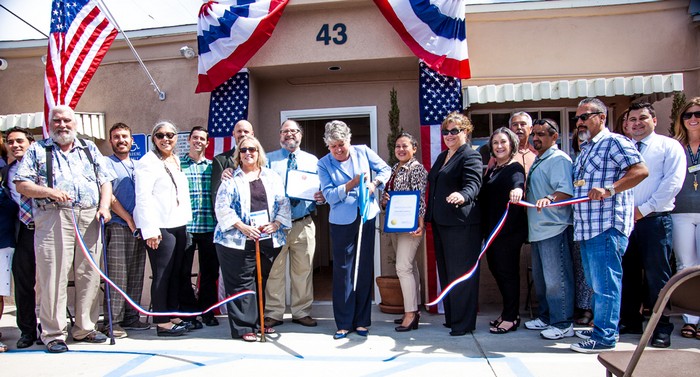 Photo by Bernie Goldstein
Government, veteran, business representatives and Turning Point staff surround Congresswoman Julia Brownley.
Turning Point Foundation has opened the first Veterans Transitional Housing facility on the central coast. On August 5th Congresswoman Julia Brownley cut the ribbon at the grand opening. The Veterans Transitional Housing facility is located at 43 E. Vince St. in Ventura.
Based on 27 years of experience, Turning Point Foundation identified a tremendous need for supported transitional housing for veterans suffering from mental illness that are homeless to address their particular barriers to success. The goals of the program include obtaining residential stability for mentally ill veterans that are homeless through supported transitional and permanent housing, increasing life skills and income stability, and obtaining self-determination by sustaining a personal Wellness and Recovery Action Plan.
Turning Point's primary means of engagement with potential veteran clients is the organization's Our Place Safe Haven, a 10-bed shelter and Multi-Service Center, which provides overnight emergency shelter and drop-in services to more than 350 homeless persons each year, 12% of whom are veterans. Since 1995, Our Place Safe Haven has served as a "community living room" where homeless persons can drop-in and get a cup of coffee, food to eat, socialize with others, take a shower, do their laundry, make phone calls, get their mail, talk to a Case Manager and get counseling.
Turning Point Foundation currently serves over 762 clients each year through safe haven, shelter, supported housing and rehabilitation programs. Turning Point is the only local non-profit agency that addresses the critical community needs of mentally ill adults in Ventura county.
To identify potential residents, Turning Point's Street Outreach team networks with the police and other mental health and social services agencies serving homeless persons, follow up on leads concerning potential clients, as well as make regular visits with food and supplies to areas where homeless persons are known to congregate in Ventura County, and through VA referrals.
Turning Point currently has three employees who are veterans, and are looking to hire more.  These employees have the peer experience and connect compassionately with homeless veterans.
To learn more about Turning Point Foundation, and a personal tour beforehand with their Executive Director, Jason Meek, please call 652-0000 x108.